Some Interesting Links
Over the last couple of months (Nov. - Dec., 2005) I've done a bit of Internet research related to my trip to Ghana. I've come across some great journals posted by visitors to Ghana. Some of the photography quality is professional, and I have enjoyed reading their activities and observations. Just in case you would like to check them out, I'm posting a very informal list in PDF form.
Personal Ghana Travel Journals
Here is another informal list of
Ghana Government and General Information websites
in PDF format.
It took me quite a bit of Internet research to figure out that my monkey
Peewee
was a
Patas monkey
. I found a beautiful photo of one that looks just like Peewee. It was taken by Pat Bennet and I'm useing it here with his permission. Please
visit his website
and see more of his fabulous photos of Ghana.
Below is a picture of me and Peewee.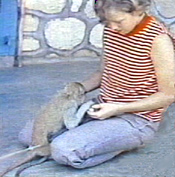 Unlike this wonderful photo, Dad was usually behind the camera.