We left Nalerigu in August of 1970, to return to the US, just before my 14th birthday. Some of the sadness of leaving included leaving behind my monkey Peewee, who was about 6 months old. When the time came to actually drive away, I can vividly remember sitting on top of Dad's white veterinary truck with my sister and two brothers and sadly waving goodbye to Sandow and our other Ghanaian friends who were standing in our driveway. With tears rolling down, I couldn't imagine how I was ever going to see my Ghanian friends again.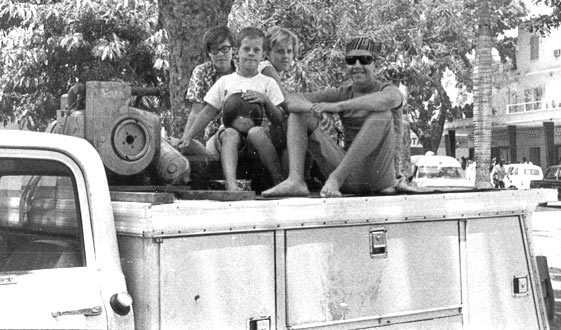 I corresponded with Sandow and Alando and a few others, for several years while I was in high school.
They both were great writers and would fill me in on the lastest news. Both continued their education through Secondary School. They would often tell me how much they had grown. They became handsome men. Below is a picture Sandow sent me that I treasure. This is what he wrote on the back:
"December 25, 1973, Looking from left you have Moses Alans, S. S. Sandow, Alfred Yisah and finally at the right Joe Bantanga Salifu. Picture taken by George Chringa at the church after church service. What do you think of these four boys since you left Nalerigu?"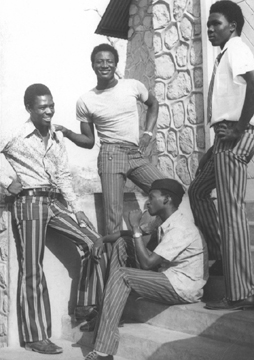 After about 4 years we stopped sending letters. Or maybe I stopped sending letters, being quite distracted by my own teenage activities. (I'm so glad I saved all their letters.)
In my twenties I started having dreams about Sandow. In my sleep I began looking for him. I would get very excited and happy after a "Sandow dream" because I was back in Ghana. In my landscape of dreams I revisited the house were we lived, walked through the village and had many strange adventures looking for him. I don't remember how many years the dreams continued until there he was. Then I found him again and again. Each dream we were so happy to see each other. The dreams eventually stopped.
I wanted to return to Ghana for many years and wondered what it would be like to see my friends again.

Angels along the way...
continue